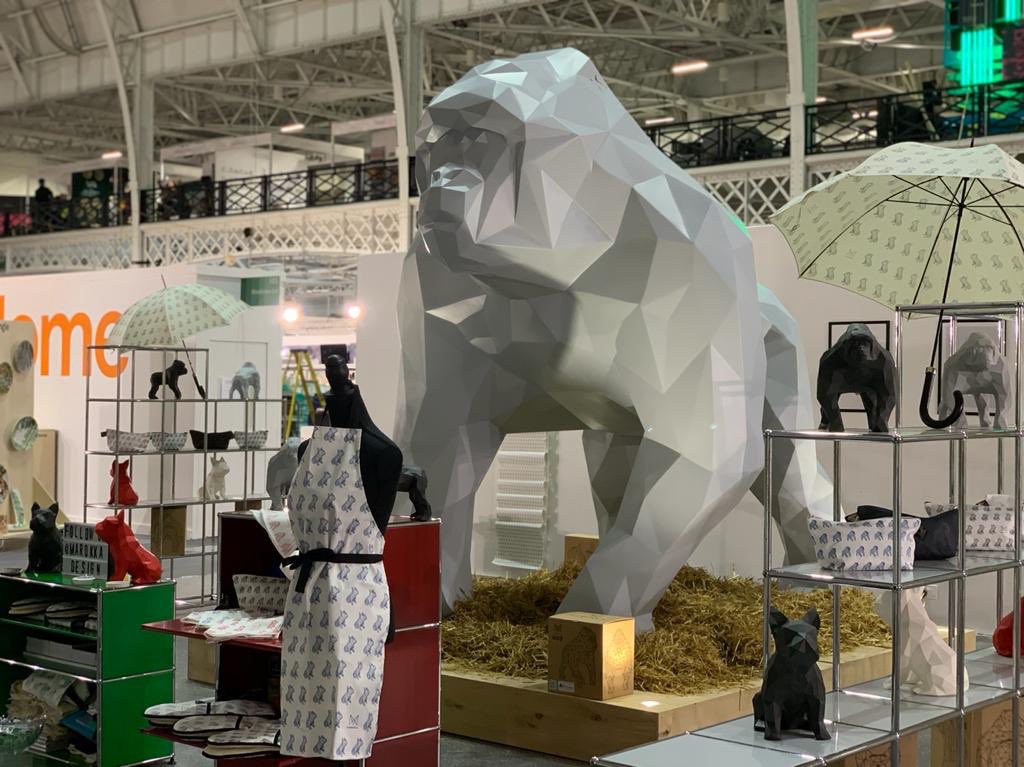 Marokka brings King Gus the Giant Gorilla to Top Drawer

Standing at over 3 metres high, Marokka, the London design house will showcase King Gus, its first public art sculpture, at Top Drawer event held in London Olympia from 12th to 14th January 2020.

The supersized polygonal gorilla is a celebration of Marokka's stunning portfolio of stylish products. Gus is one of a collection of more modest sized angular sculptures that have been created reflecting on architectural and sculptural shapes, the sculptures are designed from the inside out, reinventing traditional shapes by taking them back to the DNA of their internal, architectural form. The collection includes Frank the French bulldog which was the original starting point for Marokka.

Launching at Top Drawer will also be a selection of homeware products that feature the brands distinctive artwork including prints, gift wrap, cushions, aprons and umbrellas. There will also be more product launched throughout 2020.

Marokka is proud to support The Aspinall Foundation, which helps to promote the incredible work it does to protect endangered animals around the world and its commitment to returning rare and endangered animals back to their natural habitats. For every Gus sold 10% of profits are donated to this amazing charity.
Marokka has teamed up with iconic Swiss brand USM modular furniture, creating a stunning bespoke stand which highlights the flexibility and creativity of the USM Haller furniture. This established and much revered brand has supported Marokka since its initial launch in 2015. Ian Weddell, UK CEO of USM UK said:
"It has been wonderful to see the Marokka brand grow and develop into such a covetable brand, we are delighted to support it once again as it enters the next stage of growth."

Marokka strives to make beautiful objects with real character that bring happiness to the people who own and experience them.
Charlotte Clout, Commercial Director at Marokka says:
"Marokka is an incredible brand that exudes style and fun. It has broad appeal and we are only at the start of realising its full potential and application. Every product has sustainability and corporate responsibility at the core of it design and this is an area that will be vital to the brand and products moving forward."
Please come and visit Marokka and meet the glorious king Gus on stand H9, located adjacent to the Design Talks seminar area.

For further information please contact cora@informare.co.uk 07903481131