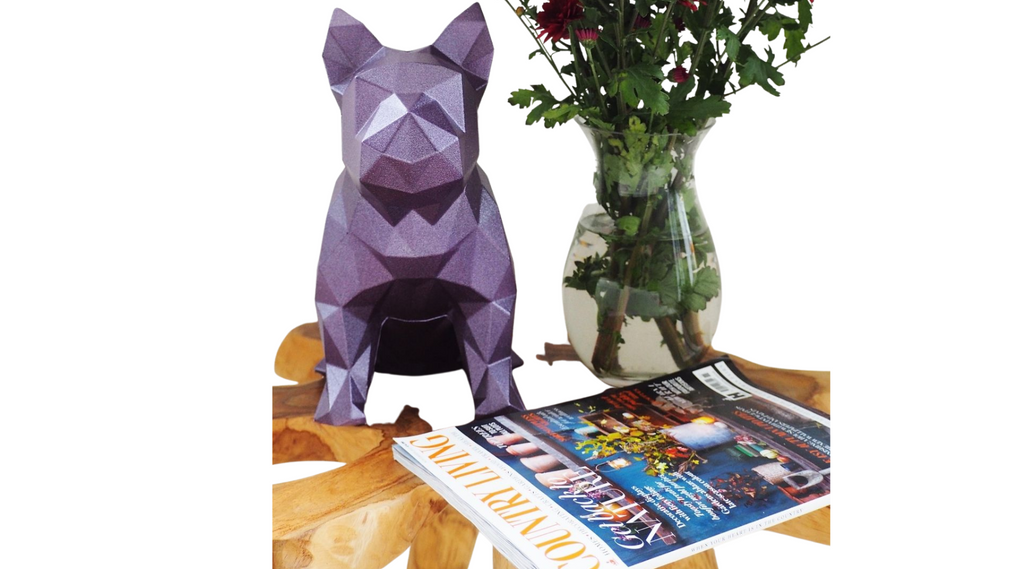 Pantone, the global colour authority and provider of professional colour language standards and digital solutions for the design community have announced their 2022 colour of the year – Very Peri, a dynamic periwinkle blue hue with vivid violet, red undertones.
Marokka the London design house who create stunning geometric sculptures have introduced the colour Veri Peri to some of their iconic sculptures including Frank the French Bulldog, Gus the Gorilla and Yorick the skull.
"As we move into a world of unprecedented change, the selection of PANTONE 17-3938 Very Peri brings a novel perspective and vision of the trusted and beloved blue colour family," says Leatrice Eiseman, Executive Director, Pantone Colour Institute. "Encompassing the qualities of the blues, yet at the same time possessing a violet-red undertone, Very Peri displays a spritely, joyous attitude and dynamic presence that encourages courageous creativity and imaginative expression."
Veri Peri is the perfect new hue for Marokka sculptures as it displays a carefree confidence and a daring curiosity that animates the creative spirit just like Marokka's designs. Marokka's sculptures are lovingly bought to life boldly and bravely and are the perfect way to introduce the colour of the year to any style conscious home.
Marokka sculptures are made with thought, care and precision unlike many of the copycat versions of the original designs. The multifaceted designs, with their angles and edges are extremely hard to make which is why they are made in Italy by a team of craftsman who hand finish each sculpture. Each sculpture bears the Marokka logo, as a hallmark of its authenticity and the care that went into its creation and it comes with a certificate attesting to its authenticity.