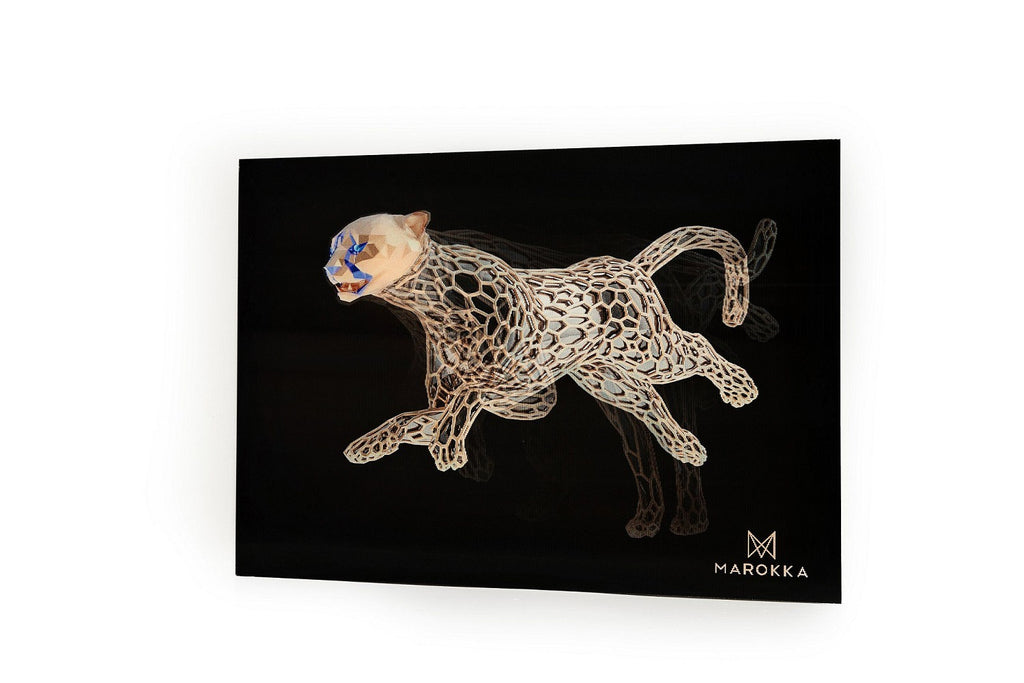 https://hoteldesigns.net/member-news/design-gone-wild-introducing-queen-ava-the-cheetah-by-marokka/
Geometric design brand Marokka takes a walk on the wild side by introducing Queen Ava the Cheetah to its contemporary collection of statement sculptures…
When you walk into a hotel lobby or hotel bedroom the senses become more heightened when there is an interesting sculpture, a stunning piece of wall art or a feature that provides a point of interest for guests.

Image of sculpture of running cheetah
Marokka knows all about making a lasting impression with its range of 3D animal-inspired sculptures that are showcased in bedrooms at a luxury four-star hotel in Port Lympne while the larger Gus the Gorilla sculpture resides outside in the Aspinall Safari Foundation Park near the hotel. The sculptures have caused a buzz amongst visitors and makes the experience to Port Lympne all the more memorable

In keeping with Marokka's style to excite, engage and provide luxurious art forms that 'wow' for the hospitality industry and consumers alike, Marokka has recently unveiled its latest creation, Queen Ava the Cheetah. Ava is no ordinary Cheetah, she is a digital lenticular sculpture that unites the real world with the virtual and digital world.

When the Aspinall Foundation re-homed two hand reared cheetahs Saba and Nairo, Marokka wanted to celebrate this and give recognition to the elegance and prowess of this beautiful animal and as a result Ava the lenticular was born and she comes alive in full hunting mode as different movements are captured within the print.

Queen Ava has been designed in five distinct styles:

Wireframe Faceted Polygonal
Faceted Polygonal
Wireframe Vonoroi
Vonoroi
Faceted Vonoroi
Lenticulars are gaining popularity and have been seen in lobbies of 25 'W Hotels' across the globe while retailers like Clinton Cards have seen a shift towards lenticular birthday cards and postcards amongst its consumers.

Also, as with all its sculptures, Marokka also raises awareness of the charities that care for animals and is proud to donate a percentage of sales for every digital sculpture of this endangered species sold to the Ashia Cheetah Conservation, A not-for-profit conservation project in Paarl, South Africa, dedicated to the survival of the cheetah by running a significant wilding & release program.

COMING SOON – Thanks to the popularity of Queen Ava the Cheetah Marokka will be adding to the range with Ava candles, charms and charm bracelets.

Marokka is one of our Industry Support Package clients and regularly features in our Supplier News section of the website. If you are interested in becoming one of our recommended suppliers, please email Katy Phillips.