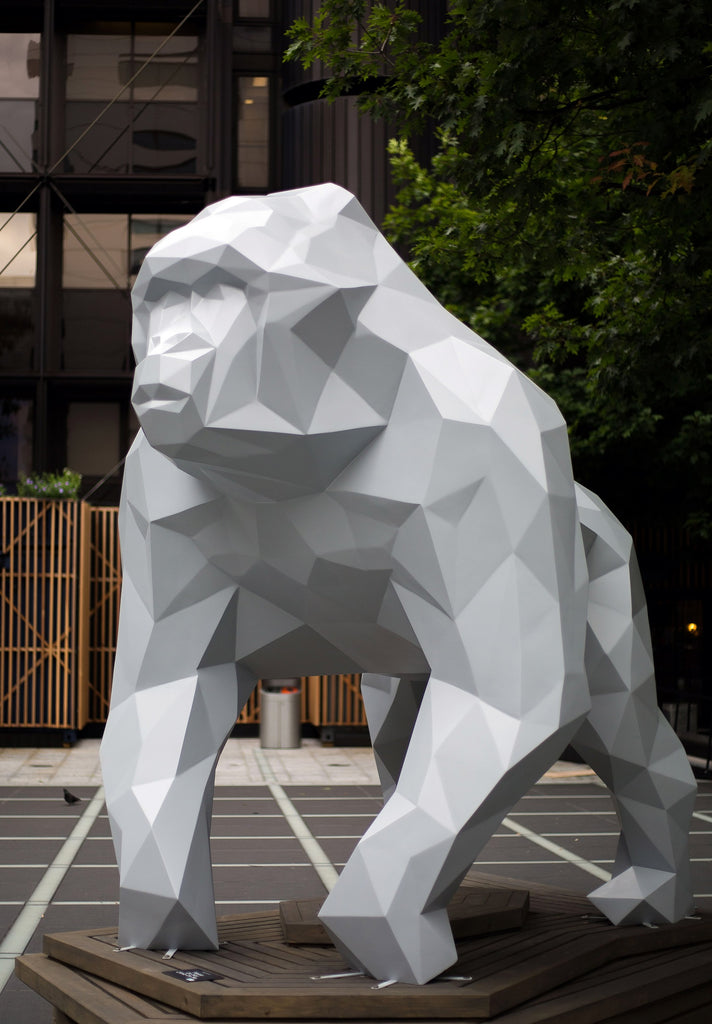 Top Drawer S/S20 was filled with visual delights, but few grabbed visitors' attention quite like Marokka's King Gus; a triumph of design, sitting at nearly ten feet. We took a few minutes with Owner and Commercial Director of Marokka, Charlotte Clout, to learn more about the brand's design process, work with The Aspinall Foundation and, of course the gorgeous Gus and his canine companion, Frank.
Hi Charlotte, thanks so much for taking the time to chat with us. Tell us everything there is to know about Marokka…
Marokka is a brand all about design, sustainability and fun, and its journey began three years ago when three incredible designers began to experiment with 3D printing. They set out to create a timeless aesthetic using geometric shapes that could be applied to endless designs. Wanting to make something that was as endearing as it was stylish, they started with Frank the bulldog.
With backgrounds as varied as architecture, engineering and technology, it was important to refine a production process that ensured minimal waste, maximised productivity and a finished product of the highest quality. With 3D printing taking three days per sculpture, it was decided to instead use this process to create the physical prototype, then employ rotational modelling for each piece following that. We have an amazing partner in Italy who does this for us; maintaining the quality we want the brand to be known for whilst using as few pieces as possible.
I've followed the Marokka journey since it launched and when it was decided to bring a more commercial slant to the brand, I was approached with the opportunity to buy it in October last year. I felt so passionate about the brand and its work, so jumped at the chance; still working very closely with the original designers and investors.
Your relationship with The Aspinall Foundation is so important to you, tell us more about that…
King Gus, the 3-metre-tall gorilla that was on display at Top Drawer, was commissioned as a wildlife awareness piece and sat pride of place in Broadgate in the summer of 2017. After this we donated him to The Aspinall Foundation. Creating him was no easy feat, he is made from a 16-part mould and took nine weeks to make, but, surprising to many, only weighs 150kg. Moulds of this kind only enable four productions, so there is the opportunity for a couple more King Gus commissions if others wish to own such an amazing statement piece whilst supporting an incredible cause.
Made from the same 3D CAD File so having an identical likeness, our Gus mini sculptures and textile products allow customers to take a piece of his magic home with them, with 10% of all sales being donated to The Aspinall Foundation and their conservation efforts. We also provide stockists of our Gus products with donation products that they can display in-store.
Obviously CSR sits at the heart of the brand, but so does sustainability. Why is this such a focus for you?
Sustainability is incredibly important to us, and we pride ourselves on looking at the whole product Journey to ensure it is as kind to the earth as possible. Our sculptures are made from recycled sources, meaning they can be subsequently recycled also—although we focus on premium quality and production so owners never wish to dispose of them. Our packaging is also completely eco-friendly and our design and production processes have been refined to ensure as little waste as possible.
You've had such an incredible journey with Marokka, have there been any highlights so far?
Having King Gus back on public display at Top Drawer was just brilliant, as was seeing the technique employed to get him into position—via skates. A huge thank you to the Agility team for their support. They had never unloaded a Gorilla before! He brought a smile to many visitors' faces.
I actually have a Fintech and banking background, so for me the Top Drawer experience was completely new. I was amazed by all of the opportunities for networking and new business, both with buyers and other exhibiting designers and companies who are interested in collaboration opportunities.
So, what's next for Marokka?
We're so excited to soon be announcing two more animals in support of The Aspinall Foundation, as well as our new textile launch in March.
We're also looking to nominate a dog's charity to partner with in a similar way for sales of our Frank-themed products. I've obviously had a glimpse at our 2020/ 2021 look book and can honestly say the designs to come are just amazing, we can't wait to unveil them.
For more information about Marokka and to explore their incredible range, please visit
www.marokka.com/