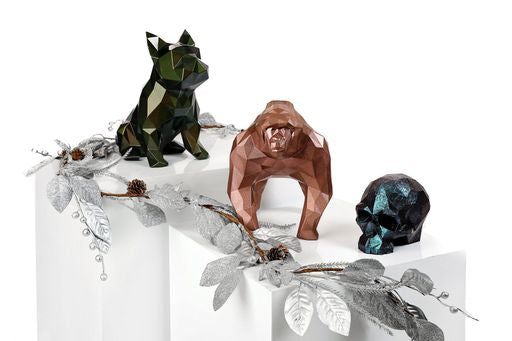 https://homedesignerandarchitect.co.uk/2020/11/23/meet-marokka-and-spruce-up-any-room-marokkadesign/

Marokka Geometric Design is a London design house with a passion for animals, the environment and the geometrical structure of things that surround us in our everyday lives.
Using their signature geometric style Marokka has created premium and unique modern sculptures that will add a new dimension to any room in the house. Frank the French bulldog was their first creation, followed by Gus our Gorilla, Yorick skull and recently Ava the Cheetah joined the ever-growing Marokka family.
Plus, this Autumn/Winter and just in time for Christmas Marokka collaborated with Half-cut Candles, a business that upcycles wine bottles from the best vineyards in the South East of England, using the bottom half for candles. The design team at Marokka created a lid in its inimitable polygon signature style which come complete with a small but perfectly formed sculpture on the top, that can be easily adapted to use as a charm. All the packaging is fully recyclable. The team at Marokka and Half-cut Candles worked together to create unique scents that capture the essence of each sculpture.
Marokka is proud to support animal charities donates 10 per cent of all sales to the Aspinall Foundation and DOTS ( Dogs on the Street).
Marokka's multi-faceted designs are made in the UK with a team of specialised craftsmen that share our passion for design and finding sustainable solutions and materials that don't harm the environment. All packaging is Eco-friendly and every sculpture comes with its own certificate of authenticity and displays the stylish 'M' logo.
Marokka's sculptures and candles are available to buy from their website, www.marokka.com and selected retailers including Wolf & Badger. Marokka also accepts commissions for larger pieces such as Gus on an individual basis.